Epos Solutions for Pubs and Clubs
With a choice of modules and prices, we will help you discover a simpler smarter Samtouch EPOS system to boost efficiency and enable staff to work quickly and effectively and with easy access to data that is able to give you an instant overview of how your business is performing. Link with a mobile ordering tablet to streamline order taking at the table or beer garden or integrate with the 'Order Me' App on the customers phone.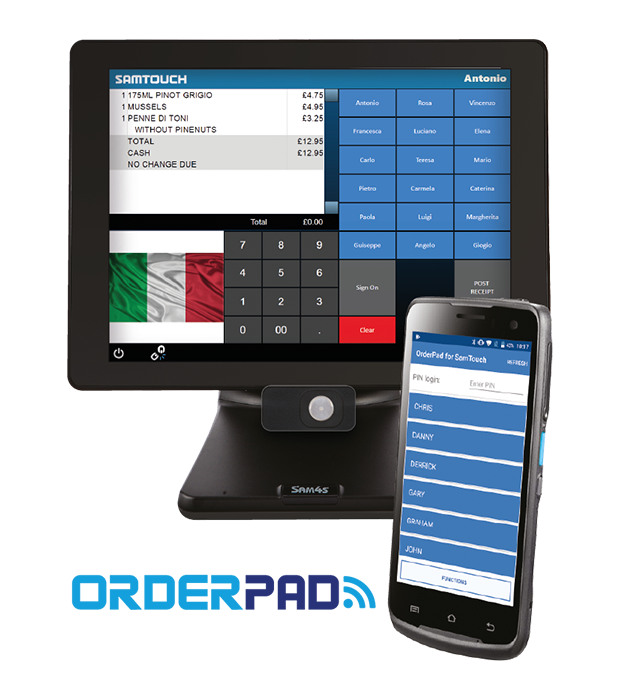 You can take advantage of Samtouch smart system technology to improve efficiency and help staff keep up with the demands of a busy hospitality environment.
Choice of complete systems including 'Order & Pay@ Table' device and 'Order Me' Customer's own device food ordering App.
Customisable easy to use dynamic interface

Automated table planning

Set menu management




(meal deals happy hours etc)

Seamless kitchen order communication
Innovative styling

Integrate with all payment types

Set personalised security levels

Low power consumption

Integrate with 'Order Me' – customer's own device food ordering App
Sam4S Titan S360
Special bundle prices available
Please call for details
Optional front facing customer screen
Stylish point of sale terminal with innovative base
Includes Terminal, Cash Drawer and Printer. No hidden extras. Terms and conditions apply
Typical 3 year lease available subject to status.
Sam4S Titan S360

Waterproof multi – touch 15″ Dynamic screen terminal, innovative styling, separate cash drawer, and thermal printer in special bundle price.
Sam4S Forza

  Waterproof dynamic Touch Screen LCD terminal. Separate cash drawer and thermal printer. Available with either 10″ 15″ 15.6″ or the vibrant 18.5″ display.

Innovative styling frees up space below the terminal for additional hardware such as a receipt printer.
Call for prices which include include 1 year Warranty and Telephone Support.
Additional options available:
Cloud Technology back office software
Integration with all payment types
Kitchen Printer
Mobile Ordering and integration with 'Order Me', customers own device ordering App.
Sam4S Forza 100
Please call for prices
Up to 18" screen terminals available with front facing customer display
Compact sizes available for smaller spaces
Free space below for thermal receipt printer
Additional solutions to help your pub or club 
Get started Today
We can arrange a demonstration of a tailored bespoke Epos solution for your business.
Call us to get started
Tel: 01444 246111
Contact Us