TAGFIRST EPOS Solutions Guide
EPOS systems are a significant investment for any business and considerable thought should be given to the requirements of your business before purchasing.
Whether your business is a pub, club, restaurant, bar or café, we can provide you with a tailored EPOS system to help improve efficiency and boost profits.

If I install an EPOS system what will be the benefits to my business?
Information and data will be available in real time.
An EPOS system will be at the heart of your business, providing information and data that will give an overview of the current and past performance of your business. Sales data will be available in real-time from any internet enabled device enabling you to take action and react quickly to make any changes that may be necessary to update prices check stock, or set special offers all at the touch of a button.
Low power consumption
SamTouch EPOS systems can provide significant savings in running costs due to their low power consumption and their fan-less operation means they are virtually silent.
Training
SamTouch EPOS systems require minimal training. We provide full training on installation. Your staff will appreciate the intuitive user interface to enable them to work quickly and provide a faster more efficient service.

Take time to research the options
Can the supplier install the hardware and software to give you a system personalised for your business?
Can the supplier install and program the system tailored to suit your business, or will you have to fathom this out for yourself? With over 30 years of experience our specialist advisors will ensure we understand your business needs to enable us to provide you with a complete solution suited to your business, now and in the future.
Cost
While the basic system cost is an important factor, the cheapest option may not be the best solution for your business. Installation, programming, reliability and on-going system support for your business is critical. Ask us about our range of support package options.
Security
Many businesses particularly Hospitality, rely on part time / temporary staff to manage busy periods of service. High levels of temporary staff turnover can lead to issues relating to theft and fraudulent activity. We can set authorisation levels to restrict which staff members can offer refunds or void sales. What other till security options can the supplier offer? We can integrate a CCTV module with the tills which will monitor till operations and store the data along with a matching visual record of till entries to help stop till entry misuse, user error or fraudulent activity.
How will TAGFIRST help me integrate EPOS into my business?
All-in-One Solution
Having an all-in-one-solution from Tagfirst in terms of hardware and software ensures both are perfectly synchronised from the start.
Many brands will usually have one or the other. Hardware from one supplier, software from another. The SamTouch systems deliver both quality hardware and software together from the same origin, offering that extra reassurance of reliability and compatibility.
Installation and Support
Your business is hospitality or retail, not technology. Why purchase a sophisticated EPOS system and be left to work out the set-up and programming by yourself? Tagfirst will program the system prior to installation and on delivery our technicians will install and if necessary, address any technical issues and show you how the system works. We can also ensure you receive ongoing support should you need any help in the future.
Training
When you purchase an EPOS system from Tagfirst we will ensure that you are fully trained so that you and your team know how to use the many powerful and innovative features that are available to help improve service and boost business efficiency.
When we install your system we will go though the easy to learn operational steps with you. This way, you can train a wider team quicker, easier and more confidently.
Samtouch hardware options
Limited for counter top space?  Choose the space-saving Sam4S Forza terminal with space for printer.
Speed up order taking with the hand-held mobile ordering and payment at table solution.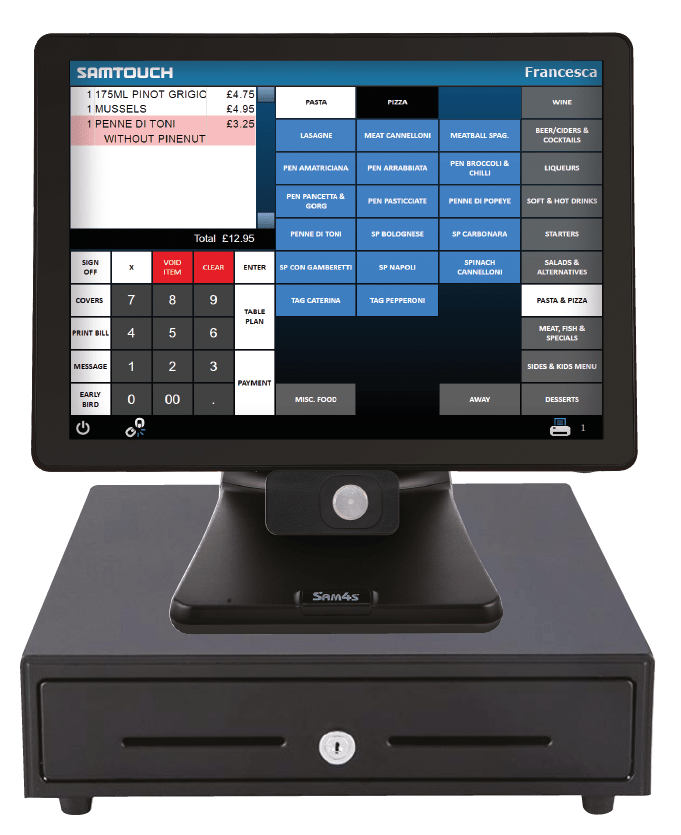 Sam4S Titan S360
Developed specifically for Hospitality and retail environments.
Customisable easy to use 15.6″ LCD touchscreen.
Many innovative features including
automated table planning.
Set menu management.
Seamless kitchen order communication.
Instant bill production.
Monitor staff clocking in and out.
Faster payment processing solutions.
Low power consumption.
Stylish design.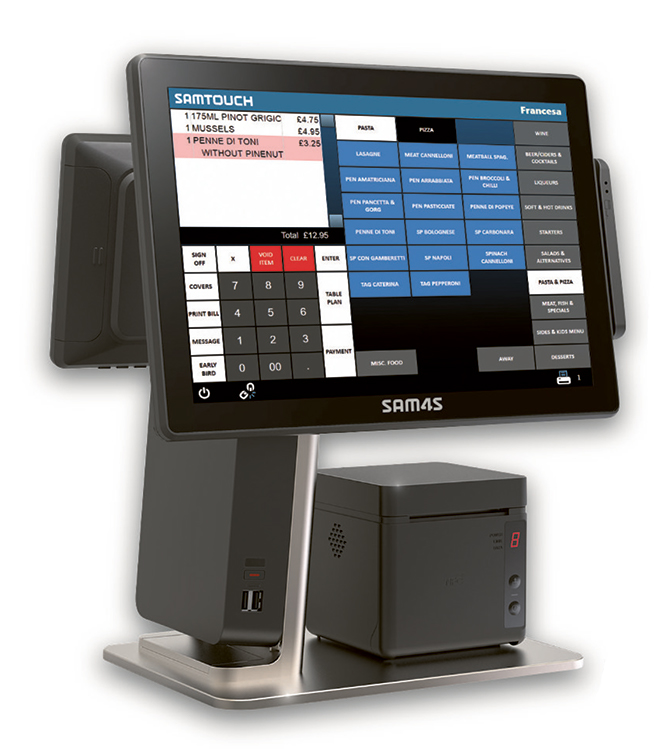 Sam4S Forza
All in one EPOS terminal with powerful high functionality software and a full range of advanced capabilities in a compact size. Tough and durable 10.4″ screen with integrated printer and pop up customer display. Ideal for small cafes, delis or any other outlet with limited counter space.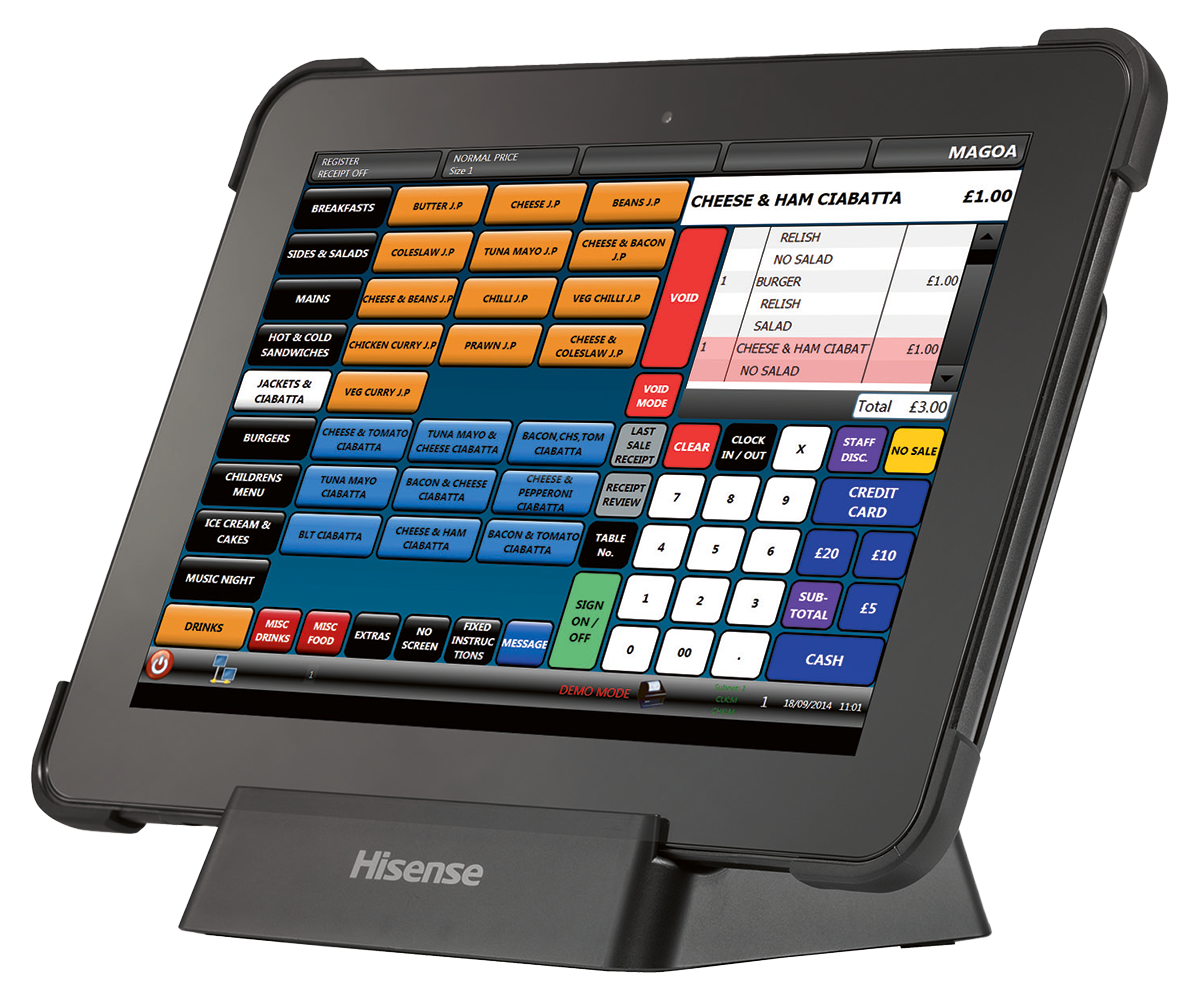 The Samtouch mobile ordering software solution is available as an added extra. It works in conjunction with the main terminal and has the same look and feel as the screen used on the main tills. It works with any hand held device, speeds up order taking, is easy to use and requires minimal staff training.
Software and Support
Stay in control and ensure a smooth running hospitality business with sophisticated Samtouch software technology developed over many years plus online and technical support from Tagfirst.
Book a Free Demo Today
We can arrange a free demonstration and show you how a tailored bespoke Samtouch EPOS solution package can help streamline your business.
Call or contact us Tel: 01444 246111
Contact Us